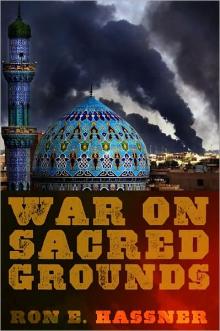 People in the Department
Ron E. Hassner
Associate Professor
Groups: International Relations
Ron E. Hassner is a graduate of Stanford University with degrees in political science and religious studies. He studies the role of symbols and ideas in international security with particular attention to the relationship between religion and conflict. His publications have focused on territorial disputes, religion in the military, conflicts over holy places, and the pervasive role of religion on the modern battlefield.
He is the editor of Religion in the Military Worldwide (Cambridge, forthcoming), a collection of essays on religious practices in contemporary and professional armed forces. Religion on the Battlefield (under contract, Cornell University Press) examines the impact of religious ideas, symbols and practices on strategic decision making in 20th century wars. War on Sacred Grounds (Cornell, 2009) analyzed the causes and characteristics of disputes over sacred places around the globe and the conditions under which these conflicts can be managed.
Ron has published on the topic of religion and conflict in International Security, Security Studies, Terrorism and Political Violence, Politics and Religion, Civil Wars and others and has contributed chapters on similar themes to numerous volumes.
Together with M. Steven Fish, Ron co-directs Berkeley's Religion, Politics and Globalization Program. He founded and now chairs the "Religion and International Relations" section of the International Studies Association. He is an associate editor of the journal Security Studies.
Specialization
Religion and Violence, Religion in the Military, Territorial Disputes
Education
Ph.D., Stanford University